Regular price
Sale price
$ 890.00
Unit price
per
Sale
Sold out
See Size Chart
Shipping & Returns
Step into a world of pure elegance and grace, adorned in a dress that's a radiant symphony of design and comfort. This masterpiece is a beautiful blend of intricate ivory lace, delicately embroidered roses, and meticulous detailing, all harmonizing to deliver an ethereal aesthetic that's truly breathtaking. The heart-shaped neckline adds a touch of romantic sophistication, making this dress an exceptional choice for any event or party, where you're guaranteed to make a memorable impression. The silhouette is impeccably shaped with a cinched waist that flows into a flattering A-line, offering a silhouette that's as comfortable as it is chic. Adding an element of unexpected delight are the hidden inseam pockets that merge convenience with style. For those who dare to make a daring yet elegant statement, a leg slit adds a subtle allure, ensuring that every step you take is filled with confidence. The design gracefully cascades into a floor-length dress and concludes with a sweep train, adding a final note of regal elegance. The short puffy sleeves lend a whimsical charm while a decorative ribbon belt serves as a stylish accent, completing the ensemble with a flourish. This dress is not just a garment, but a captivating story of beauty and elegance, tailored for those who appreciate the finer things in life.
View full details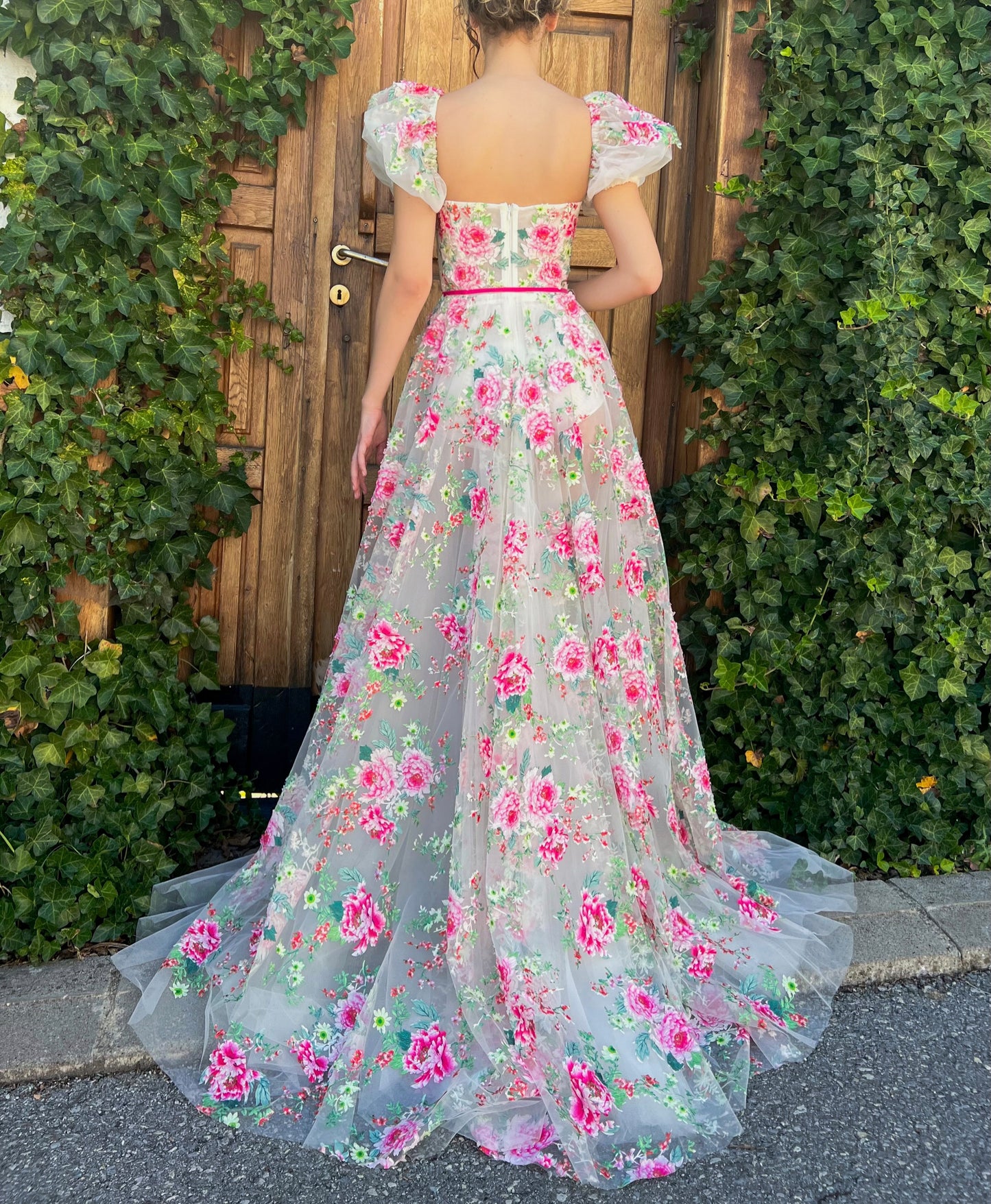 Returns Policy
"Standard size" gowns and other non-custom items.
We accept returns for unworn and unused dresses within 7 days of the delivery date. To initiate a return, please contact us with your order number and the reason for the return. All shipping charges are non-refundable.
Upon receipt of the returned dress in good condition, we will process a refund of the purchase price to the original payment method. Please note that all shipping costs are non-refundable.

We will not accept returns for dresses that have been worn, washed, damaged, or altered in any way. If a returned dress is not in resellable condition, we reserve the right to refuse a refund.

"Custom Size" dresses and customized items.
Due to the nature of custom-made dresses, we do not accept returns or exchanges. Please make sure to provide accurate measurements and specifications before placing your order. We will work with you to ensure that your dress fits properly and meets your expectations, but we cannot offer refunds or exchanges once the dress has been made.

If there are any issues with the craftsmanship or quality of your dress, please contact us as soon as possible after receiving your order and we will work with you to resolve the issue.

Import Taxes and Duties Policy:

All products imported into the country are subject to import taxes and duties as determined by the government. These taxes and duties are non-refundable and must be paid by the recipient of the products at the time of delivery.

It is the responsibility of the recipient to ensure that they are aware of the applicable taxes and duties for the products they are importing and to budget accordingly. If the customer has not pre-paid the import taxes and duties at checkout, they will be required to do so upon delivery. Failure to pay the taxes and duties may result in the products being held by customs, returned to the sender, or seized by the government.

Please note that if the customer returns the goods purchased, the import taxes and duties paid will not be refunded.

All returns and exchanges require approval -- kindly contact us via email at info@teutamatoshi.com and we will get back to you as soon as possible.